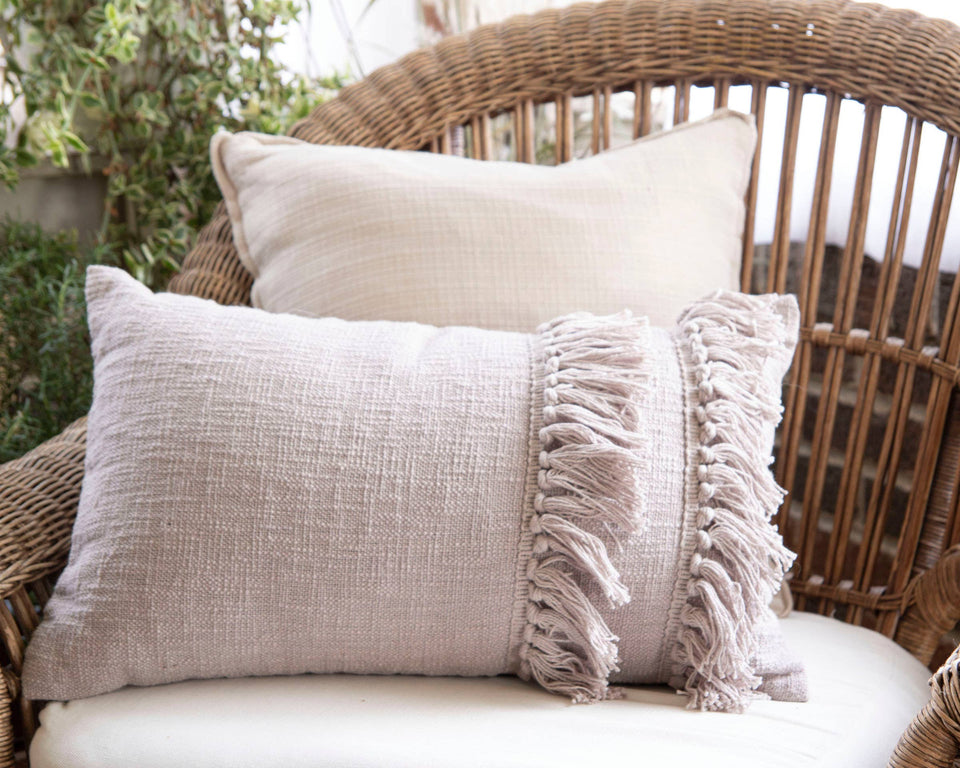 14X22 Hand Woven Maya Pillow Gray
FIPL09272
The Gray Maya Pillow is a great transitional or accent lumbar for many pillow displays. This design features a gray dyed cotton slub fabric with layers of braided tassel accents.
Pair with other neutral pillows for a soft statement or with shades of gray for a modern look.
Dimensions: 22" l x 14" w x 5" h
Lumbar size for accenting with other pillows or for use as stand-alone statement.
Spot clean only.
Made unique with braided tassel accents.
Soft, gray dyed slub cotton.
Textiles are handwoven and handcrafted in India.
Handloomed by artisans using techniques passed down through generations.
Each of Foreside's textiles are touched by hand, giving a quality craftsmanship that shows.
Not only are they intricately handloomed, but most of the attachments such as fringe, tassels, braiding, and poms are attached by hand.
_____
At Foreside, we believe the home is as much about the spaces we inhabit as the people we love and the storied objects we surround ourselves with. It's a respite from the daily grind, a comfortable place where we can be the best version of ourselves and where we can share and connect with others. It's in this place that Foreside seeks to bring unique, soulful items that make a home that much more inspiring, that much more enriching; helping to renew and re-energize us every day. -

 

Foreside Home & Garden- Minneapolis, Minnesota 
Free same day delivery on orders
Free curbside pickup - ready in 20
* on orders made before 5pm
how it works
delivery is available to addresses within 10 miles of our shop.
delivery timing
we do our best to fulfill these the same day but based on order volume may occur the next day. we will send you a message if you submit an order before 5pm that we will not be able to deliver the same day.
we offer a completely contact-less shopping experience.
we can generally have your order ready for pick up within 20 minutes.
how it works...
- choose "pick up" on the "information" tab of checkout
- we'll notify you when your order is ready
- give us a call at 651-222-2366 when you're outside and we'll run it out!