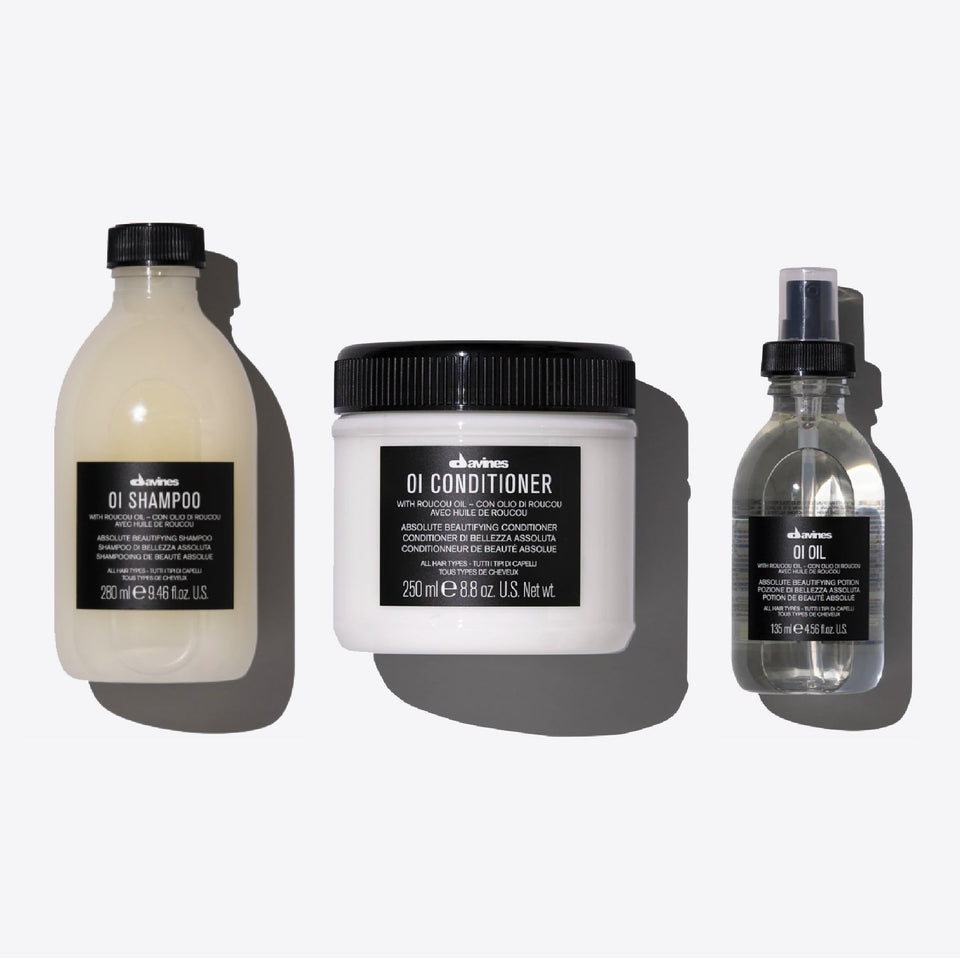 "Dusty Ghosts" Oi Hair Care Set - for Luxe Scents and Shine
by Davines
Ideal for all hair types, the OI Set is an easy choice for those who desire beautiful, shiny and fragrant hair.
Includes:
OI Shampoo: Milky-smooth Shampoo ideal for all hair types. Infused with nourishing Roucou oil is the perfect daily shampoo to maintain soft, shiny and voluminous hair. Antioxidant action and long-lasting perfume.
Benefits: Delicate and sensory cleansing. Detangling action. Strong and immediate cosmetic effect. Soft, shiny and full-bodied hair. Pleasant fragrance.
280 ml
OI Conditioner: Rich and buttery conditioner for all hair types. Providing extraordinary softness, shine and body, accelerating the drying process leaving the hair with a sensory scent.
Benefits: It nourishes and moisturizes the hair with an extra beautifying effect. Antioxidant protection from UV rays. Acceleration of the drying process. Strong and immediate cosmetic effect. Extremely soft, full-bodied and luminous hair. Pleasant fragrance.
250 ml
OI Oil: Multi-function oil, adds shine and softness to hair while also detangling and fighting frizz, working especially well on coarse or dry hair. The hair structure is left protected, without weighing it down.
Benefits: Hair is shiny, hydrated, frizz-free. Protects from styling and environmental factors.
135 ml
Free same day delivery on orders
Free curbside pickup - ready in 20
* on orders made before 5pm
how it works
delivery is available to addresses within 10 miles of our shop.
delivery timing
we do our best to fulfill these the same day but based on order volume may occur the next day. we will send you a message if you submit an order before 5pm that we will not be able to deliver the same day.
we offer a completely contact-less shopping experience.
we can generally have your order ready for pick up within 20 minutes.
how it works...
- choose "pick up" on the "information" tab of checkout
- we'll notify you when your order is ready
- give us a call at 651-222-2366 when you're outside and we'll run it out!