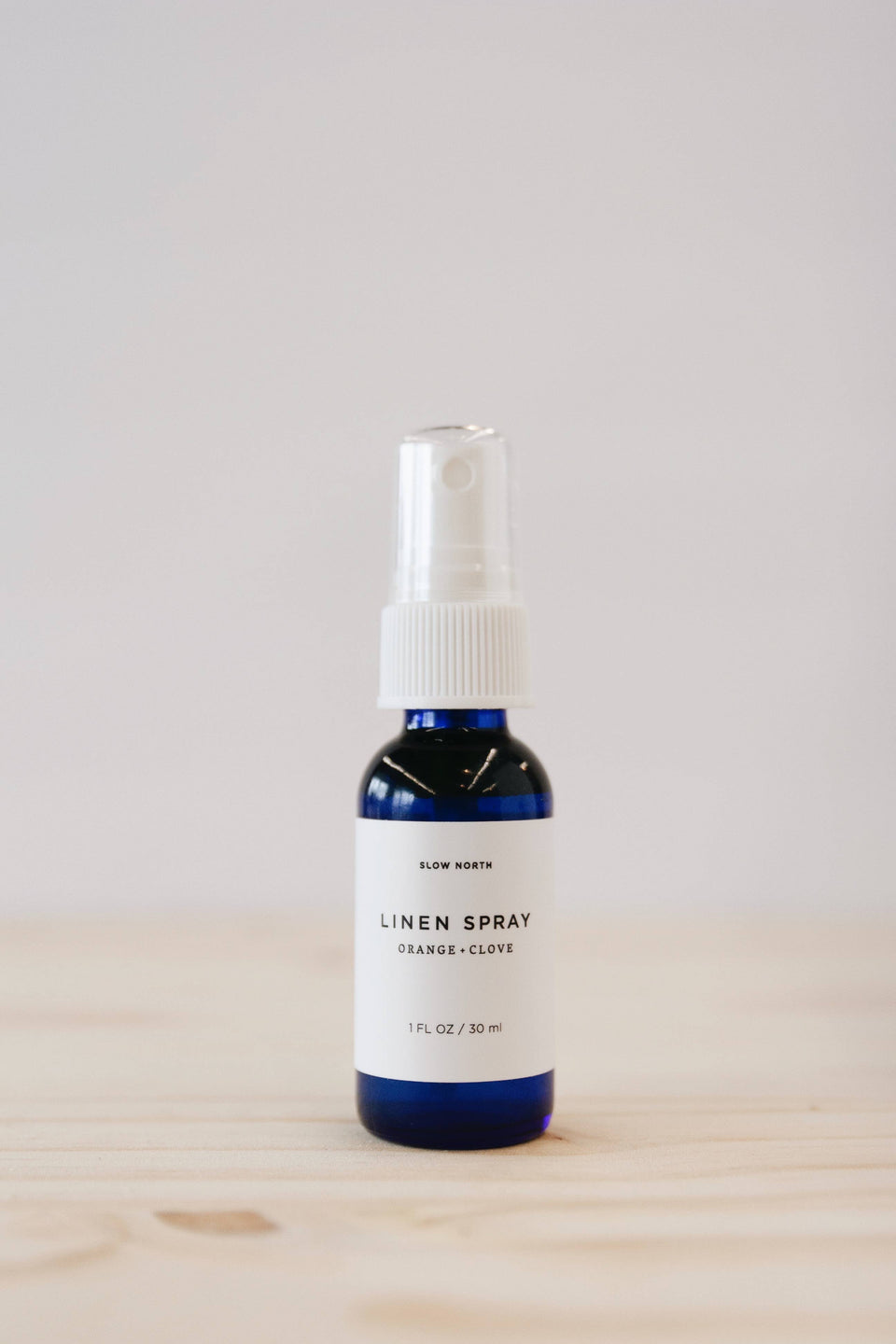 Mini Linen Spray - Orange + Clove
MLSOC
by Slow North
A travel-size linen spray.
Slip into a pocket or bag for aromatherapy on the go! Our custom blend of lavender and peppermint essential oils - designed to relax and calm your senses - is opening and fresh with minty floral notes.
organic

eco-friendly

handmade

woman owned brand
Ingredients: Water, Aloe barbadensis Whole Leaf Juice (Aloe Vera), Witch Hazel, Lavandula angustifolia (Lavender) Oil, Mentha arvensis (Peppermint) Oil, Silver Dihydrogen Citrate, Citric Acid
"After years of slowly ridding our home of less-than-healthy, toxic products and replacing them with natural alternatives, we hit a roadblock when it came to finding a suitable replacement for candles. We lived without candles for a good while but greatly missed the calming ritual of lighting a candle to relax in the evenings.
The impetus for creating Slow North's line of plant-based candles was the birth of our son. While pregnant, we became even more aware of just how many products in our house contained mystery concoctions of synthetic chemicals – some of which are not required on ingredient listings. We became increasingly unsettled. We searched for alternatives and recognized a need for well-designed, naturally healthy candles on the general market. Motivated to create products that boasted all ingredients honestly and with integrity, we began experimenting with candles that we would feel good about burning in our own home". --Slow North.
Free same day delivery on orders
Free curbside pickup - ready in 20
* on orders made before 5pm
how it works
delivery is available to addresses within 10 miles of our shop.
delivery timing
we do our best to fulfill these the same day but based on order volume may occur the next day. we will send you a message if you submit an order before 5pm that we will not be able to deliver the same day.
we offer a completely contact-less shopping experience.
we can generally have your order ready for pick up within 20 minutes.
how it works...
- choose "pick up" on the "information" tab of checkout
- we'll notify you when your order is ready
- give us a call at 651-222-2366 when you're outside and we'll run it out!