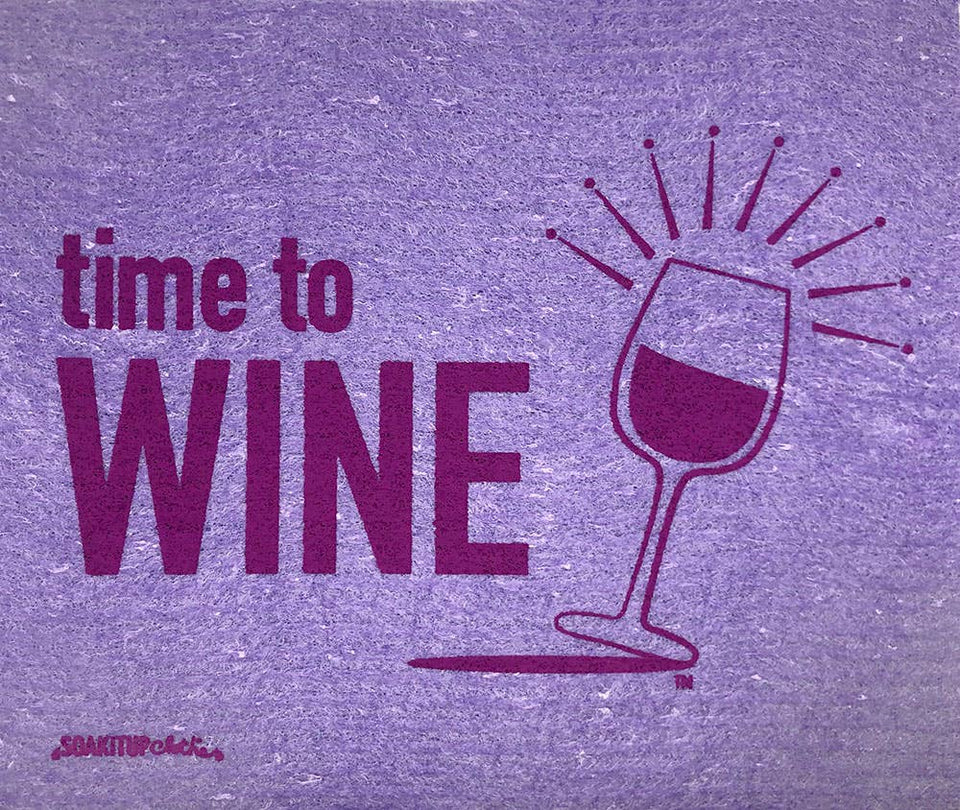 Time to Wine Red Dishcloth
Sc 18 005
by Soak iT Up (not so) Swedish Dishcloths
Soak it up swedish dishcloth. 1 cloth equals 1,500 paper towels
Eco friendly 
Woman Owned 
Local
Sustainable
Dimensions: 6.8" w x 8" h
_____
After decades of designing T-shirts, totes, mugs, and more—plus hundreds of direct mail catalogs—Minnesota art director and mom Carla Scholz decided it was time to create something that appealed to her growing interest in all things green.
That something is Soak It Up Cloths, reusable Swedish sponge cloths. One will do the work of 1,500 paper towels. They're practical with a punch: brightly colored, graphically pleasing, even laugh-inducing. Carla's clever and witty designs are inspired by her midwest roots.
Americans use more than 13 billion pounds of paper towels a year, (according to the website paperlessproject.com) if every person in the United States used one less roll a year, 544,000 trees could be saved. Stats like that drove Scholz to question her own paper towel use—and create these fun, functional, eco-friendly alternative. "Next time you're reaching for a paper towel, stop and ask yourself if you really need to," she says. - Soak iT Up (not so) Swedish Dishcloths. Roseville, Minnesota
Free same day delivery on orders
Free curbside pickup - ready in 20
* on orders made before 5pm
how it works
delivery is available to addresses within 10 miles of our shop.
delivery timing
we do our best to fulfill these the same day but based on order volume may occur the next day. we will send you a message if you submit an order before 5pm that we will not be able to deliver the same day.
we offer a completely contact-less shopping experience.
we can generally have your order ready for pick up within 20 minutes.
how it works...
- choose "pick up" on the "information" tab of checkout
- we'll notify you when your order is ready
- give us a call at 651-222-2366 when you're outside and we'll run it out!